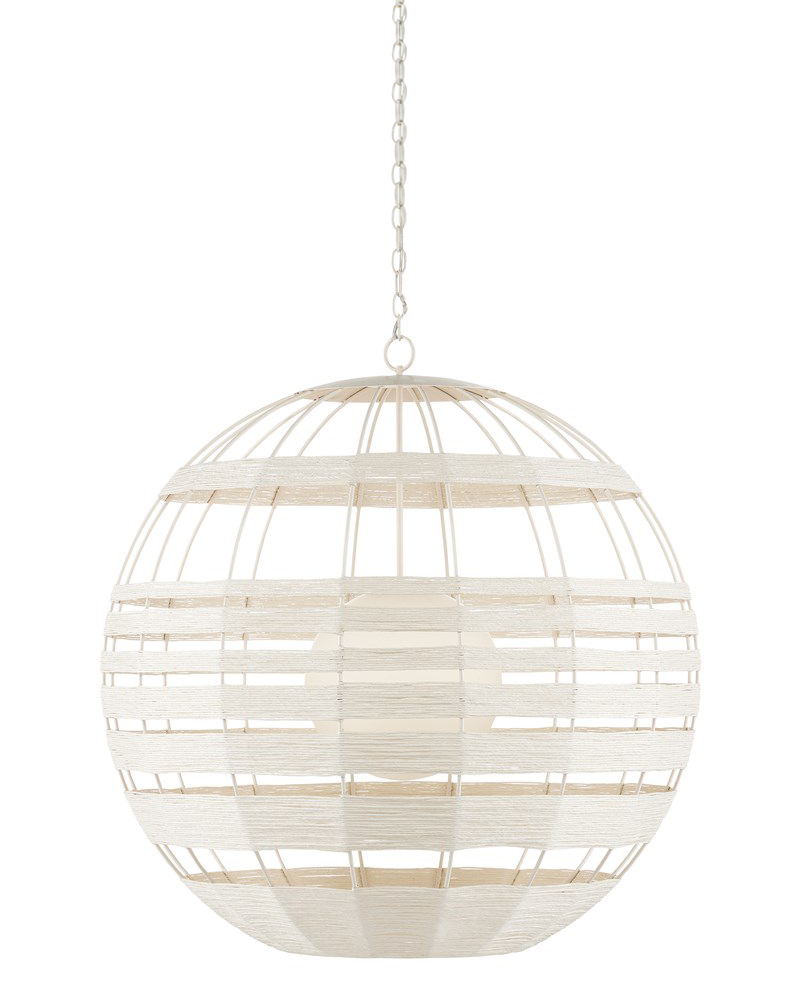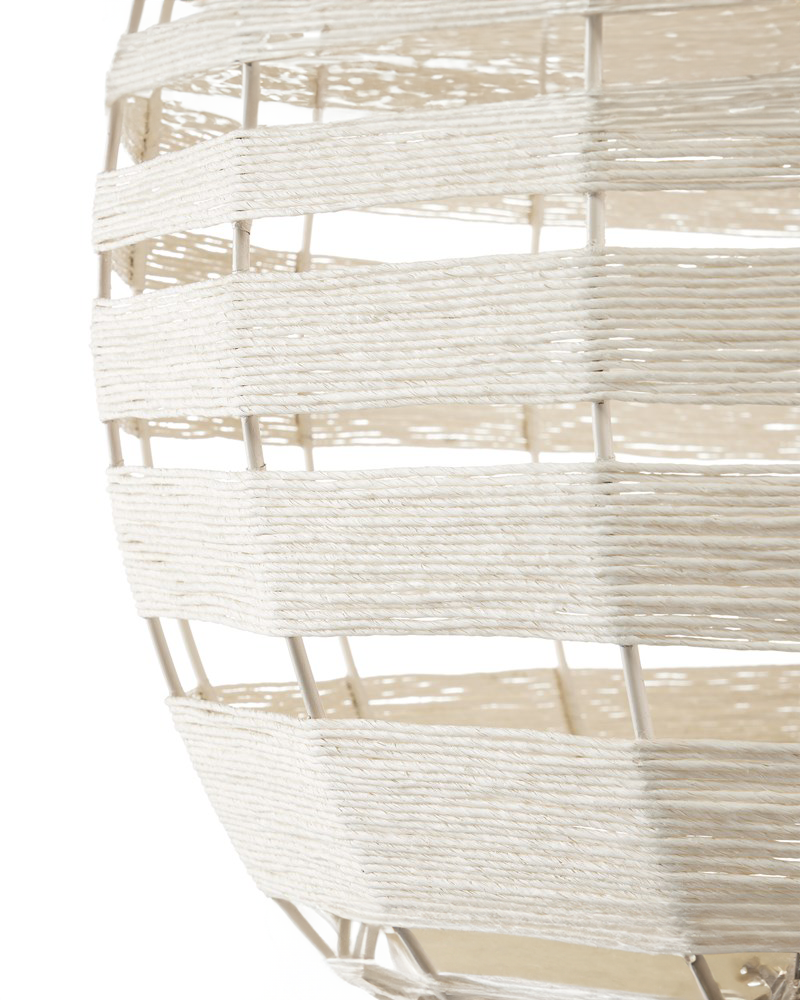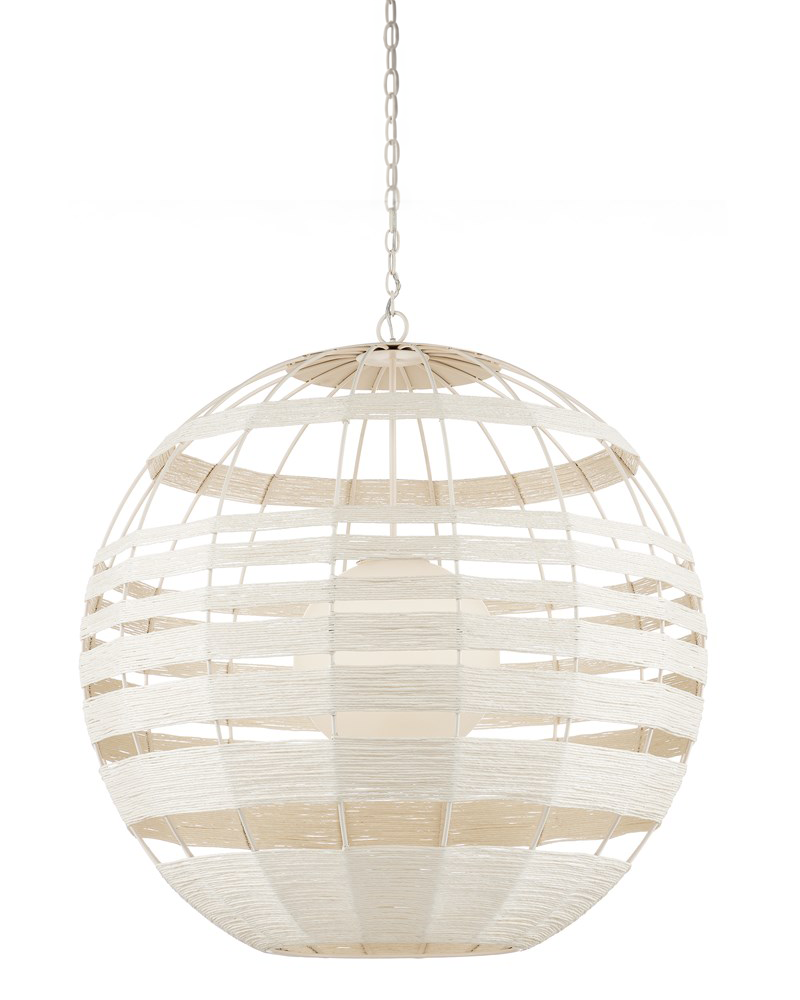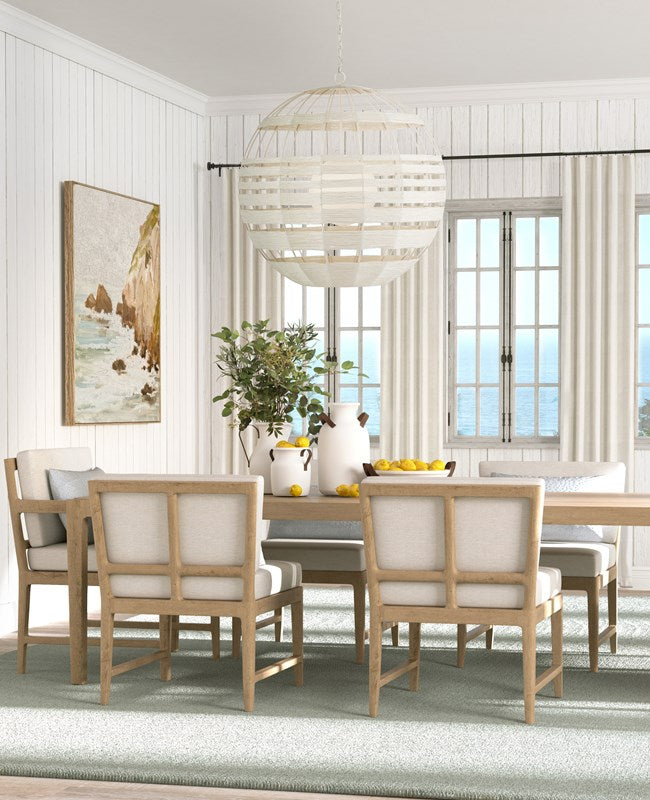 Inspired by the planet Jupiter, Clarence Mallari designed the Orb Chandelier with its irregular bands of twisted Kraft paper twine. The globe cage wrapped by the string is completed in a vanilla finish; the pale intermingling of materials making this a stunning design. A white frosted glass globe evenly distributes the light on this over-scaled white chandelier.
Finish: Vanilla/White
Materials: Wrought Iron/Kraft Paper Twine/Frosted Glass

Overall: 37.5"h x 34"dia.
Adjustable Height: 42" to 110"
Weight: 21 lb

Lights: 1
Watts per Socket/Item: 60/60
Light Source: Bulb
Voltage: 120v
Socket: E26
Suggested Bulb Type: A Standard
Light Direction: Upward

Chain Included: 6' Vanilla
Additional Chain: 0100-0153
Cord: 13' Clear Silver

Diffuser: Frosted Glass
Packaged in Style
At Bungalow, we know that attention to detail makes all the difference, which is why we put the same level of care and consideration into packaging and delivering your order as we do into curating our selection of unique items. Each piece in your order is carefully wrapped and packaged by hand, ensuring that it arrives at your doorstep in pristine condition.
Delivered with care
We want every aspect of your Bungalow experience to be memorable, from the moment you begin browsing our selection to the day your new pieces arrive at your home. That's why we believe that the little things matter, and we take great pride in our personalized, hand-packaged orders. We want you to feel special and appreciated as a valued customer, and our meticulous packaging is just one of the ways we show our commitment to quality and care.